Testimonials
Alistair Cavill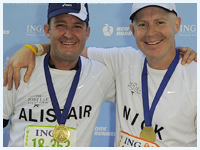 I approached Scott for weekly personal training sessions over 10 years ago having suffered debilitating arthritis for more than a decade. I was on a new medication program at the time which had brought my arthritis under control and gave me a window to get fit and rebuild some muscle. Scott put me through a program which gradually rebuilt a decade of muscle wastage and improved my cardiovascular fitness to a respectable level. Following this early rehabilitation program we set some event goals which gave us something to train for in the longer term and keep me focussed. I began cycling and entered and completed the first Tour Down Under community ride - 140km through the Adelaide hills. This would have been impossible to imagine only a year earlier when I had trouble walking.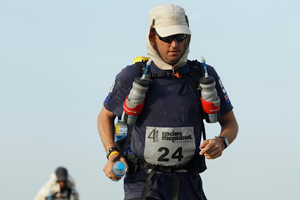 Following this first, post arthritis event, Scott has guided me through training programs for the Kokoda Track,3 more Tour Down Under Rides, the 200km Alpine Classic ride in Victoria, an 800km week long full Tour Down Under event (riding all stages of the Tour), The New York Marathon and most recently The Gobi March - a 250km self supported running race across China's Gobi Desert. While it is easy to say I completed all these events myself, it is without question I would not have had a hope of getting through them without the careful guidance of Scott's tailored programs. Scott's deep understanding of the human body and what makes it tick meant my programs were designed to move progressively towards each goal without getting injured and without causing a setback in my underlying condition.
Scott has also ensured I maintained a focus on what is good for my long term health and fitness not just on sport specific training. I have never tired of training and Scott will always mix things up to make every session fun. Personal training is now a part of my routine and I would not contemplate a life without it. I have saved far more in medical bills by being fit and healthy than the comparatively small cost of a couple of training sessions a week. I have no idea what the next event will be but I do know Scotty will be there to help...
---
Susan
Scott is the key person in ensuring that my body is able to deliver what my mind and heart wants to achieve. He has been my trainer for close to ten years and, as a result of his help and dedication, I am stronger and fitter than I have ever been. This is remarkable given that most friends my age (over 60),are showing signs of rapid deterioration and are less capable of doing ordinary things, like lifting boxes and walking for extended periods, whilst I have not experienced these limitations. Scott continually adjusts and makes my training challenging so that it is never boring. Working more on balance and core strength has really delivered results and I love the variety that Scott puts into my training schedule. Even though I still also go to the gym and workout on my own or in group classes, I am aware that, without my sessions with Scott, it is very easy to get into bad habits and to not exercise properly. He keeps me constantly aware of when I am doing a movement even slighty wrong, which could, over time, cause me damage. I have never needed much of a push to be physically active, but I rely on Scott heavily to adjust my exercise routine when I have had minor injuries (never acquired through training), so that I don't push myself too hard and make things worse. As a psychologist, I am also acutely aware of how important exercise is for dealing with pressure and keeping a positive attitude, especially when life delivers some unexpected curve balls. I can go into a training session with Scott feeling flat, but I always leave feeling uplifted and glad that I have gone.
---
Jarrod Thorn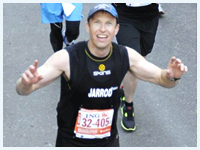 I couldn't even complete my first half hour personal training session with Scott almost 5 years ago, but through training with Scott twice a week over the past 5 years, my fitness is at a level where I completed the New York marathon last month! The motivation and support provided by Scott and the small group of likeminded people we train with has been instrumental in this transformation. I hate missing a training session!
---
Sheralee
The patience of a saint, and the biomechanical knowledge of a physiotherapist....it's a brilliant combination in a fitness expert.
I'm not an elite athlete, but there is no doubt that Scott treats me like one, and when he is training me insists that I think/act/train like one. And it gets results....every single time. With five knee operations, complicated shoulder issues, and a ready arsenal of swear words, I can't imagine I'm a nice, or easy person to train...but still he continues to support, encourage and motivate. In the last seven years I have turned to Scott every time I have a weight loss or fitness goal, and he has never failed to deliver.
He continues to believe in my physical ability even when I've long given up, he continues to encourage me to set and achieve goals, and refuses to let me give in. I pay for a personal trainer, but get a lot more in return!
Scott has been my personal trainer (off and on) for more seven years, and in that time has also become a good friend. Even when I don't technically classify as a 'client' Scott is still always available with a poke, nudge (or outright smack) in the right direction. There is no doubt in my mind that Scott is more than just my 'personal trainer'...he is a fitness expert of the highest calibre - a sports professional in every sense of the word.
---
Danielle
I used to suffer from crippling back, neck, and shoulder pain; a product of spending excessive hours in front of the computer. I had attended several physiotherapists, doctors, and chiropractors and none of them had helped with the problem. I originally started training with Scott to help lose weight I had put on during along overseas holiday. I achieved that goal, but the bigger accomplishment was that the stability and rehabilitation work we did totally cured my upper body tension and pain. I still cannot believe that I can spend days in front of the computer without experiencing any pain or even discomfort. Now I am delighted to be actively weight training for increased strength and mobility. I urge any workaholics or those experiencing any persistent pain to see Scott immediately! You'll be so pleased you did.
---
Come and try a session for free and Scott will guarantee that you will love it,
please call Scott 0412 144 161 for more information.