Services > Fit4 Personal and Group Training
One-on-One
Why undertake one-on-one personal training?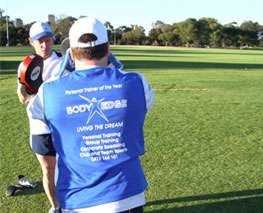 Most people choose one-on-one personal training for results they cannot achieve on their own. This form of training can also offer accountability, company, variety and the opportunity to train in a private setting away from the big gyms.
Scott loves training people and seeing results. He believes that making a change in your body is not about having someone yelling and screaming at you, rather it's about learning habits that will be sustainable for the rest of your life and Scott enjoys taking people on this journey.
---
Small Group Training in Prospect
What is small group training and would it be right for me?
Small group training is a great way to get the benefits of Personal Training at a fraction of the cost. It is also a great way to relieve stress, share the experience with other participants and increase your fitness faster.
Scott has been running small group sessions for 10 years and has shared some amazing results with his clients. For example, he assisted a 40 year old male who had never run before to complete his first marathon in 2010, and a busy stockbroker lose 15kg to enable him to complete the Inca Trail.
Small group training involves a variety of activities depending on the session focus. These activities can include running (the fastest way to get fit and change your body shape), boxing, body weight exercises, skipping, games and team challenges. One of Scott's favourite sessions is the 'amazing race' around North Adelaide where participants team up to interpret clues, track down significant landmarks and perform challenges on the way around.
Each block of training lasts for 4 weeks and sessions are conducted all year around. Sessions are conducted Monday, Wednesday and Friday mornings at 6am and are held at Prospect Oval. Please contact Scott for more details.
---
Training for Seniors
Are you feeling stiff and old, or not as sturdy on your feet as you used to be? Do you lack the motivation to do your strength exercises? Do you wish you were stronger and were able to move easier than you do?
Then this is the class for you! Scott is passionate about health and fitness, and he knows that regardless of age exercise will help a person's quality of life. Whether you are a former athlete or starting for the first time, Scott can adapt the training to your needs.
Seniors Training specialises in Bone Density, Balance, and Rehabilitation, and all equipment is provided.
Classes are targeted towards clients from 60 years of age onwards, and are conducted in a small group with individual attention. Numbers are limited so contact Scott to book your place today.
Seniors Training is conducted weekly (Wednesday 9.30 – 10.15am) at the North Adelaide FC, Menzies Crescent.
View Larger Map
Prior to commencing a program with Scott (one-on-one, group, or seniors) all participants are required to complete the Pre Exercise Questionnaire.