Services > Fit4 Corporate Health and Fitness
Is your company Fit4 business?
Does your company have or have they considered a Health Check and Wellness program?

Why should your company invest in staff health and wellness?
Healthy employees are 3 times more productive than unhealthy employees. Healthy employees work an average of 143 productive hours per month compared to an average 49 productive hours per month from unhealthy employees.

"The Health Of Australia's Workplace" Medibank Private 2005

Employees who self-report their health as poor take about 18 days sick leave per year while employees who self-report good health, an average of 2 sick days per year.

"The Health Of Australia's Workplace" Medibank Private 2005

Presenteeism or showing up to work when sick is 3-5 times more costly to your business than absenteeism. The annual cost of presenteeism to Australia $25.7 billion.

"Sick At Work" Medibank Private 2007

Australian employer's biggest expenses are costs associated with stress and musculoskeletal injury.

TravelSmart Victoria 2004

Work-related stress accounts for the longest stretches of absenteeism..

National Health and Safety Commission 2004

Stress-related workers compensation claims have increased by 400% in the last 10 years.

WorkCover SHM 2004

The total cost of Australian workplace stress is now estimated to be $1.2 billion p.a.

ACTU Bill Mansfield 2000
In essence, when you look after your staff, they look after your customers, who look after your business which then looks after you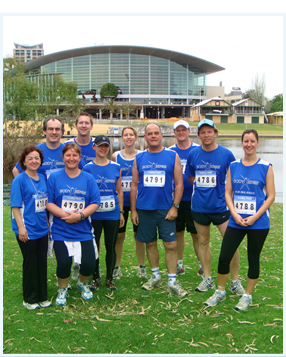 Benefits to the Company and Staff
Greater energy and motivation
Improved mental wellbeing and resilience
Better concentration and performance
Improved workplace relationships
Improved job satisfaction and personal fulfilment
Overall improved quality of life
Knowledge of health & wellbeing
Decreased personal healthcare costs
Fewer on-the-job accidents
Packages
Fit4 offer a number of different corporate health and fitness packages, from one-off staff health checks and information sessions through to running group fitness classes. A package can be tailored to your company's specific needs.